New Hampshire Septic System Inspector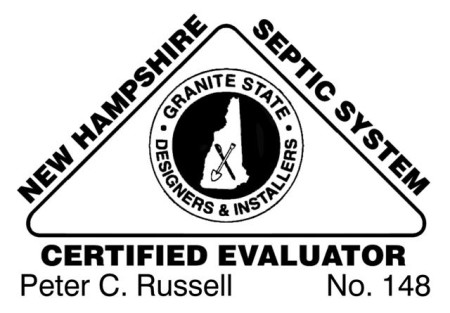 My name is Peter Russell, owner and principal septic system inspector for Russell Inspection Services LLC. We have spent many years inspecting septic systems throughout New Hampshire. I am a certified member of the Granite State Designers and Installers association (GSDI), as well as being one of the premier licensed home inspectors in NH. We work hard to bring you the highest level septic system assessments, inspections, expertise, and the ultimate professional experience. Whatever type of property you are purchasing, whether a commercial building or a residential propery, we have what you need to make your investment secure and your septic system work for you.
I have been specializing in septic systems for many years, and I have become an expert in how they work and troubleshooting issues that other inspectors miss. A septic system here in New Hampshire can costs tens of thousands of dollars, and as of 2011 NH requires that non-functioning systems be replaced and not repaired – which means an expensive issue if it is not found.
We bring a great deal of practical experience to every septic system assessment while utilizing today's technology to solve problems. From camera sewer scopes to hydraulic load tests, we cover every part of the system. Russell Inspection Services provides septic inspections for every application, in all areas of central New Hampshire and New England.
 Professional Certifications:
2003-present member of the International Association of certified Home Inspectors
2005- Certified Commercial property Inspector, ITA
 2006- FEMA disaster housing inspector, PARR inspections
 2007- Certified Commercial Inspector, understanding ASTM 2018, Interactive Media
 2007- Certified Building Science Thermographer, ITC
 2009- Certified Building Analyst, BPI
 2010- State of New Hampshire Licensed Home Inspector #57
2010- Weatherization installer training, National Fiber
 2010- NH commercial/2009 IRC energy code workshop
 2010- NH residential/2009 IRC energy code workshop
2011- Level II Thermographer, ITC
2011- Certified septic evaluator
Professional Associations
I am a member in good standing of the following Organizations.
International Association of Certified Home Inspectors
National Association of Commercial Building Inspectors
Infrared Training Center